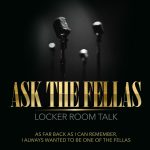 Episode 107
• (0:20) We miss Karina.
• (4:00) LISTENER QUESTION: What if Sho'Mar and Barlos are interested in dating the same woman AND the girl is also equally interested in getting to know both of them? What would be the protocol to preserve the friendship?
• (18:10) What are you most attracted to on a woman?
• (27:30) What smell do you miss the most?
• (36:36) Who takes shotgun between your mom and your girlfriend/wife?
• (45:54) I should've been dead!
• (1:02:55) Do you believe in the craft?
Join Jerokee, Sho'Mar, Micktorious, and Barlos discuss some of the most thought provoking and talked about topics known to man. We say what you aren't willing to admit in public.
Special Thanks to Ramon and The Chicano Shuffle for creating the Ask The Fellas Theme Song!