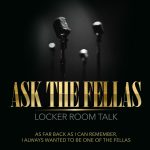 (0:20)  Don't jinx the Dodgers.  Baseball superstitions!
(5:55)  LISTENER QUESTION: If the Dodgers win the World Series, I will drink my first alcoholic drinks.  Suggest a beer, a shot of alcohol, and champagne to celebrate with.
(21:00)  LISTENER QUESTION: My 15 year old son got caught having sex by her parents.
(39:05)  Do we have a double standard if your son is having sex?
(41:55) LISTENER QUESTION:  Would you take a male birth control pill?
(54:25) LISTENER QUESTION: Is it wrong to check out my hot sisters?
Join Jerokee, Sho'Mar, Micktorious, and Barlos discuss some of the most thought provoking and talked about topics known to man.  We say what you aren't willing to admit in public.
Special Thanks to Ramon and The Chicano Shuffle for creating the Ask The Fellas Theme Song!