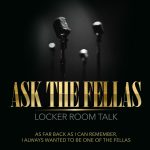 Episode 130
(0:23) All of the stuff we say.
(2:40) Do the Fellas moan when they have sex?
(10:28) Ana De Armas is finally single again.
(18:18) A puppy is the perfect pussy magnet.
(20:10) Cheers to 2021.
(21:10) OSO QUESTION: Would you rather look 10 years younger from the neck up, or the neck down?
(29:45) LISTENER QUESTION: Should I tell my wife that I used to date her new friend?
(40:40) Dick Appointment Rules.