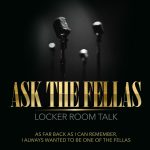 Episode 155

(00:23) Barlos is back!
(4:52) LISTENER QUESTION: How do you end text conversations?
(15:00) Texting pet peeves.  
(18:40) Should you need consent from the man and woman to go through with a pregnancy?
(38:17) Sho'mar's rant:  Black people are too smooth.
(52:00) LISTENER QUESTION: Fellas University's – How long do I need to wait before I can call a woman after a date?
(57:45) OSOE QUESTION:  Would you rather get $200 per week, but only get oral once a month or get oral daily but get no money?