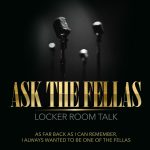 Episode 161
(00:23) Welcome!
(3:15) Listener Question: Is it sexual harassment if…?
(13:25) Do you prefer to drive or be a passenger?
(21:55) NEWS: OnlyFans bans nudity and sexual content.
(26:50) Apple wants to scan for bad stuff in your photos.
(33:45) Women claim they only get along with other men.
(48:48) RANT: Crate Challenge.
(55:25) FELLAS UNIVERSITY: Bad Business 101.
(1:00:50) OSO QUESTION: Would you rather?