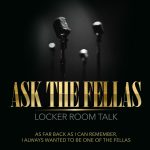 Episode 167
(0:23) Barlos is absent again! Stealthing.
(9:00) These stupid kids!
(13:55) OSO QUESTION: Would you rather?
(20:35) The way we speak and how we adjust to our audience.
(22:15) Hooking up with a woman hotter than you are.
(28:33) Getting back on topic: Oso Question.
(29:40) LISTENER QUESTION: Lady Fella wants to know if she should date in reverse.
(57:45) Are you able to force yourself to love someone?
(1:04:20) Suggestive lyrics?
(1:08:05) Who says "I love you" first?