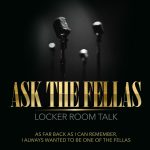 Episode 172
(0:23) The Fellas are taking a trip.
(05:32) Penis pumps, cock rings, and urethral sounding rods.
(11:10) Fortune Cookie fortunes.
(17:30) The fellas and their wallets.
(23:10) What do you carry in your wallet?
(24:52) Photo album in your wallet!
(29:42) LISTENER QUESTION: I'm getting back with my ex and try to have an open relationship.
(45:23) Should there be a mercy rule in high school sports? A football team beat their rival 106-0.
(1:05:14) Infield fly rule.