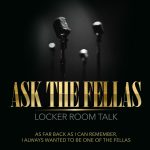 Episode 174
(0:23) Thanksgiving and Weddings.
(21:30) New Rules for Restaurants when you are with large groups.
(30:00) LISTENER QUESTION: My girl's best friend keep sending me pictures of her pretty feet.
(39:15) LISTENER QUESTION: Would You Rather? Sexy but no sex or average and fucks like a porn star?
(50:02) LISTENER QUESTION: My son had a girl in his room (the first time we had her over the house).