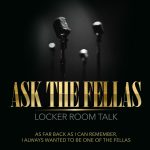 Episode 204
ALTERNATIVE TITLES: Knee Deep In Love with No Glove, Noelia Comes Out Of The Closet,
(0:23) Noelia busts out of the closet. Hello, Wisconsin. Jorts!
(17:46) What do girls check out on men?
(28:40) 1 son, 3 ex-step-children, 1 happy meal.
(58:51) LISTENER QUESTION: My fiancé wants to do a lap dance routine during the garter belt part of the wedding. What do you think about dumb stuff like that?
(1:06:30) OSOE QUESTION: Mom is being held hostage, would you save your mom's life by…