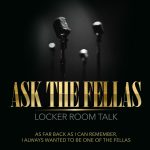 Episode 105
•  (0:20)  Drive-by…was it good for you?
•  (3:00)  Return of the little toes!
•  (6:40)  Shaving random body parts.
•  (12:40)  What should a woman sound like when she is having a good sex?
•  (23:50)  Russian's have sex to Techno.  Do you put music on for sex?
•  (27:50)  LISTENER QUESTION: Does sex mess up a blossoming relationship?  Should a guy have sex with a woman if the woman is requesting it?
•  (41:25)  Barlos is hating on Sho'mar.
•  (46:20)  Is it normal for a man to ask a woman (after sex): Was I good?  Am I big enough for you?
Join Jerokee, Sho'Mar, Micktorious, and Barlos discuss some of the most thought provoking and talked about topics known to man.  We say what you aren't willing to admit in public.
Special Thanks to Ramon and The Chicano Shuffle for creating the Ask The Fellas Theme Song!