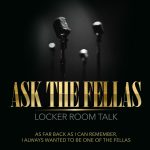 Episode 104
•  (0:20)  If a bear licks a woman in the woods, does anyone freak out?
•  (3:16)  LISTENER QUESTION: Do you think it's worth bringing in a kid into this crazy world?
•  (14:55)  MID-YEAR REPORT: Update on 2020.
•  (31:28)  Earthquakes: Are you prepared?
•  (39:14)  What if your neighboring hotel room is having loud marathon sex?
•  (42:30)  What if your son was next door having loud sex in the neighboring room?
•  (43:10)  Fisting…what if?
•  (45:30)   Drive-by birthday parties, the Fellas go wild at every wedding, and Micktorious had an epic wedding with 450 guests.
•  (58:00)  How did we get here?
•  (59:24)  LISTENER QUESTION: What's better? Morning sex vs. Night Sex?
Join Jerokee, Sho'Mar, Micktorious, and Barlos discuss some of the most thought provoking and talked about topics known to man.  We say what you aren't willing to admit in public.
Special Thanks to Ramon and The Chicano Shuffle for creating the Ask The Fellas Theme Song!