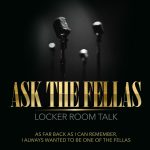 Episode 103
•  (0:20)  Meme Mamon loves Corona Familiar.
•  (5:50)  Meet our guest, Meme Mamon, from the amazingly popular Meme Mamon Instagram comedy meme page.
•  (20:10)  Is sending flirty texts to a member of the opposite sex considered cheating?
•  (37:25)  Would you stay with your partner if a limb was amputated?
•  (51:40)  Getting pulled over as a kid.
Join Jerokee, Sho'Mar, Micktorious, and Barlos discuss some of the most thought provoking and talked about topics known to man.  We say what you aren't willing to admit in public.
Special Thanks to Ramon and The Chicano Shuffle for creating the Ask The Fellas Theme Song!