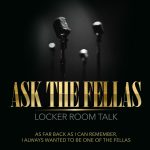 Episode 102
•  (0:20)  Falling asleep during a Zoom meeting.
•  (3:10)  Playing with fireworks.
•  (8:08)  Should we ban all fireworks?
•  (12:50)  LISTENER QUESTION: Do women that are in a close contact profession know that they are turning men on?
•  (24:34)  What does it mean when a man does this…
•  (28:02)  LISTENER QUESTION:  What if you see an inappropriate text on your mom phone?
•  (36:00) Micktorious shares his new drink of choice.
•  (38:40)  What if your girlfriends mom comes on to you?
•  (44:27)  Firework or Gunshot.
•  (46:06)  LET'S GET SERIOUS:  Protecting our street vendor Raza.
Join Jerokee, Sho'Mar, Micktorious, and Barlos discuss some of the most thought provoking and talked about topics known to man.  We say what you aren't willing to admit in public.
Special Thanks to Ramon and The Chicano Shuffle for creating the Ask The Fellas Theme Song!