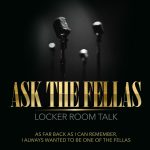 Episode 109
•  (0:20)   Craft Beer?
•  (8:51)    Drinking beer one ounce at a time…
•  (16:25)  Cardi B's Wet Ass Puss.
•  (26:21)  Why does Barlos hate Cardi B so much?
•  (36:23)  Cutting your own hair and hitting the back of the balls with a double zero.
•  (43:20)  LISTENER QUESTION: Do you guys mind if people take food off of your plate when eating out?
•  (1:01:00)
Join Jerokee, Sho'Mar, Micktorious, and Barlos discuss some of the most thought provoking and talked about topics known to man.  We say what you aren't willing to admit in public.
Special Thanks to Ramon and The Chicano Shuffle for creating the Ask The Fellas Theme Song!