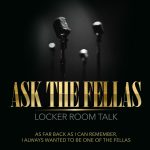 Episode 110
•  (0:20)   The Fellas need a bump.
•  (7:53)    Barlos thinks pupusas are better than tacos.
•  (14:22)  LISTENER QUESTION: What if my girl turns out to be a man?
•  (26:21)  The Fellas have a diverse taste in movies.
•  (38:00)  Would you go on a cruise ship?
•  (47:10)  What if instead of different breast size, you can choose a woman by how many breasts she has.  1, 2, or 3 breasts?
•  (52:40)  LISTENER QUESTION: If you and your best friend are renting a really nice house with a pool and other amenities, and you decide to get married, who has to move out?
Check out 1 Star Recruits for all of the sports information that the Fellas fuck up (maybe on purpose).
Join Jerokee, Sho'Mar, Micktorious, and Barlos discuss some of the most thought provoking and talked about topics known to man.  We say what you aren't willing to admit in public.
Special Thanks to Ramon and The Chicano Shuffle for creating the Ask The Fellas Theme Song!