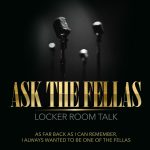 Episode 125
(0:23) COVID Vaccine
(3:10) Saturday Morning Cartoons.
(13:40) Common expressions and their crazy origins.
(23:15) Oso writes in! Would you do ANYTHING for money?
(28:00) Who will do it?
(29:30) Back to horse stories.
(33:13) LISTENER QUESTION: What should I do? My son's ex-girlfriend wants to have sex with me!
(40:50) Nostalgic Stories!