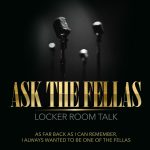 Episode 126
(3:27) Barlos has a rant…
(7:53) Barlos is back in the closet.
(11:11) Christmas!
(16:22) Real tree or Fake tree
(24:00) Oso Question: Would you?
(29:15) LISTENER QUESTION: Would you allow your kids to follow in your footsteps?
(38:13) LISTENER QUESTION: We have listeners?
(45:00) Women love assholes.
(47:17) You get what you allow.
(48:28) Mick misses the mall.
(51:40) Alright, Alright, Alright!