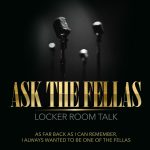 Episode 142
(00:23) Alexa.
(07:55) Trying to get the gang back together…in the studio.
(14:10) Would the Fellas want to be famous?  Seeing celebrities out in the world.
(29:17)  Oscar De La Hoya.
(32:30) Celebrity wives, a toilet, a fight, and getting bit on the shoulder.
(37:57) TURN IT UP: What song do you sing a long to in the car?
(47:21) Ask The Fellas playlist.
(50:28) LISTENER QUESTION: How much should I spend on my son's first car?
(1:09:57) Should you buy your kid an expensive new car?