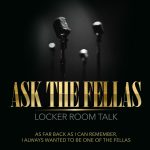 Episode 196
ALTERNATIVE TITLES: All I Need Is 5 Mics, Fly On The Wall, Lo-Fi , Too Good Not To Air, Unprofessional Professional, Toxic Recording, I Shit The Bed,
(0:23) Welcome Noelia and Fernie from Chicano Shuffle.
(07:08) Toxicas.
(17:00) LISTENER QUESTION: I want kids, he doesn't.
(30:20) Johnny Depp and Amber Heard trial
(55:20) Life advice.
(1:17:22) Smash-n-Go.