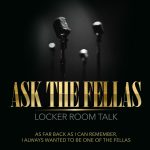 Episode 199
ALTERNATIVE TITLES: Things That Keep Me Up At Night, Statistics, Am I Stupid
(0:23) I almost failed, twice.
(06:20) Jealousy, Trackers, and
(20:35) Family, SIFs, and Spotted Dick
(31:30) LISTENER QUESTION: My wife wants me to throw out my old nostalgic CDs and DVDs.
(42:00) Micktorious and Ashley are haters.
(44:05) LISTENER QUESTION: Anna De Armas.
(45:50) Family Ties and Diff'rent Strokes.
(52:00) CONVENTIONAL WISDOM: Nothing Lasts Forever.