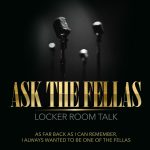 Episode 212
ALTERNATIVE TITLES: Monkey Pox Party.
(0:23) Too damn hot.
(8:10) Our youngest listener: Anastasia!
(11:26) SHOMAR'S RANT: Stop washing your hands
(21:15) LADY FELLA QUESTION: Friendship Etiquette: My friend got drunk and passed out at a Mana concert that cost me $300. Should I expect her to pay me back?
(33:10) Nursing home stripper party.
(43:30) Banned from a nightclub for staring at a woman.
(51:20) It's getting to complicated.