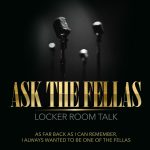 Episode 218
ALTERNATE TITLES:  Noelia Needs , Excuse To Slut It Up, We Are Sorry, Noelia, Hot For Teacher, Avoiding Affection, Healthy Communication, Fuck it, I'm Down.
(0:23) Welcome the Madame of Murder
(8:18) Halloween: Excuse to slut it up.
(28:40) Texting-only relationships
(35:33) THANK YOU
(40:35) LADY FELLA QUESTION: My husband doesn't show me affection.
(54:14) LISTENER QUESTION: My Ex-wife is dating our son's current 2nd grade teacher.
(1:05:25) LISTENER QUESTION: Every time my husband and I fight, he never says, "I'm sorry".