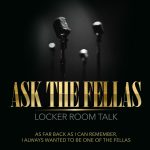 Episode 246
ALTERNATE TITLES: Waste of Height, Lying About His Dick, I Can Neither Confirm or Deny, One Demerit, My Case to Be The Fifth Fella, I'm A Brother, My Voice Got Me Laid, Artificial Intelligence is Acting Funny, Can I Cheat with an AI Robot?, Sexting With A Bot, You Hear That Oso? You Hear That Noelia?, Cannot Confirm Nor Deny – Chavo
(0:23) Welcome.
(07:44) My Voice Got Me Laid
(17:15) Artificial Intelligence
(26:32) Is sexting with Artificial Intelligence bot cheating?
(34:43) Lakers were swept!
(38:50) Near death experience.
(45:05) Thank you.
(50:40) What would you like God to say to you as you arrive at the pearly gates?