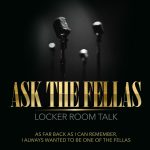 •  LISTENER QUESTION: Is it harder to be a man or a woman?
•  If you were to wake up as a woman one day, would you be promiscuous or would you be sexually conservative?
•  LISTENER QUESTION: Did I make a mistake by refusing to kiss a woman that went down on me?
•  PARENTAL ADVICE:  At what age would you let your daughter wear thong underwear?
Join Jerrokee, Sho'Mar, Micktorious, and Barlos discuss some of the most thought provoking and talked about topics known to man.  We say what you aren't willing to admit in public.