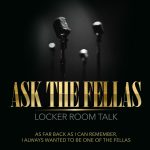 Episode 82
• (6:31) Should you give your wife a "practical" gift? For example, appliances like a vacuum cleaner.
• (17:07) LISTENER QUESTION: At what age should you STOP having parties at a loud club or crowded restaurant for yourself?
• (27:44) Narcos: Mexico
• (35:12) Corona Virus: The Olympics are in danger of being cancelled or moved. Are you prepared to bunker down and not leave your house?
• (45:45) After a fight with your wife or a woman you live with, what do you usually do when you are still angry?
Join Jerrokee, Sho'Mar, Micktorious, and Barlos discuss some of the most thought provoking and talked about topics known to man. We say what you aren't willing to admit in public.
Special Thanks to the Chicano Shuffle for creating the Ask The Fellas Theme Song!