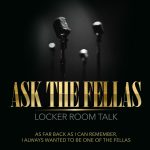 Episode 82
•  (05:21) Our experiences with the neighborhood crackhead (like Crackhead Ezal).
•  (19:55) Growing up and seeing the neighborhood drug dealers around the block (like Big Worm).
•  (36:00) Did you have the neighborhood bully (like Deebo)?
Join Jerrokee, Sho'Mar, Micktorious, and Barlos discuss some of the most thought provoking and talked about topics known to man.  We say what you aren't willing to admit in public.
Special Thanks to the Chicano Shuffle for creating the Ask The Fellas Theme Song!