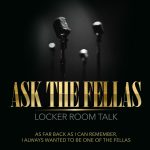 Episode 85
•  (10:28) Introducing our special guest, Oso, stalker and private detective found the Super Secret Location to become a guest.
•  (15:56) Reminiscing about college with Oso.
•  (23:13) The Fellas take a "Sports Quiz"
•  (34:10) The Fellas are misinformed about Asian women and Asian customs.  
•  (37:42) LISTENER QUESTION: What is Girl Code?
•  (45:54)  The Fellas realize they don't know anything about women!
•  (48:25)  The Fellas talk about running the Marathon
Join Jerrokee, Sho'Mar, Micktorious, and Barlos discuss some of the most thought provoking and talked about topics known to man.  We say what you aren't willing to admit in public.
Special Thanks to the Chicano Shuffle for creating the Ask The Fellas Theme Song!