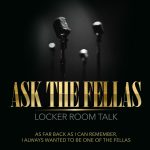 Episode 90
•  (1:50)  Tiger King update:  New episode added.
•  (4:00)  What is worth risking getting COVID-19 for?
•  (12:20)  A barber passes away after contracting COVID-19 from a client.
•  (23:10)  Americans are excessively eating, drinking, smoking pot, and watching porn (masturbating) while in quarantine. 
•  (35:10)  Barlos' Rant:  Jerokee would not sell something to Barlos.
•  (38:30)  Barlos was a guest on Chicano Shuffle!
•  (49:10)  Barlos is out of control with all of the challenges from the listeners.
•  (54:25)  Bar Fights: When the sh!t goes down, you better be ready!
Join Jerrokee, Sho'Mar, Micktorious, and Barlos discuss some of the most thought provoking and talked about topics known to man.  We say what you aren't willing to admit in public.
Special Thanks to Ramon and The Chicano Shuffle for creating the Ask The Fellas Theme Song!