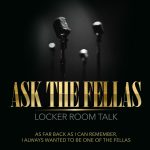 Episode 89
• (4:40) OfferUp stories.
• (13:20) Barlos has a rant.
• (15:35) LISTENER QUESTION: Question for Barlos, who would you "F", Marry, Kill, from the Fellas?
• (30:40) Jerokee was the first to record Girls Gone Wild. Sho'Mar remembers
• (45:15) If you could perform fellatio on yourself, would you?
• (52:15) We try to convince Sho'Mar that he should try to suck his own pee-pee!
• (55:00) Behind the scenes with the Fellas.
• (57:40) That Bitch Carole Baskin! And an interview with Joe Exotic!
Join Jerrokee, Sho'Mar, Micktorious, and Barlos discuss some of the most thought provoking and talked about topics known to man. We say what you aren't willing to admit in public.
Special Thanks to Ramon and The Chicano Shuffle for creating the Ask The Fellas Theme Song!