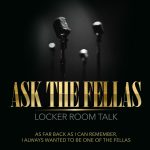 •   Would you be an Uber driver?
•   How much is too much?  Messing around with your friends about being gay.
•   Running into Resortes and calling him Cantinflas.
•   Are women rated equally on a 10 point scale?
•   What do men find sexy about women?
•   What time do you go to sleep?
Join Jerrokee, Sho'Mar, Micktorious, and Barlos discuss some of the most thought provoking and talked about topics known to man.  We say what you aren't willing to admit in public.
Special Thanks to NOH999 & Or What Produx for the dope beats.