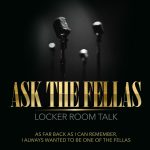 •   Discussing Leaving Neverland / Michael Jackson Documentary
•   Fyre Festival Documentary
•   Have you ever had to take the bullet for your friend?
•   What does your drink say about you?  Whiskey, tequila, rum, vodka, etc.
•   Is Facebook dead?
•   Kylie Jenner is a billionaire
Join Jerrokee, Sho'Mar, Micktorious, and Barlos discuss some of the most thought provoking and talked about topics known to man.  We say what you aren't willing to admit in public.
Special Thanks to NOH999 & Or What Produx for the dope beats.