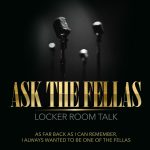 Episode 183
Alternate titles:
The One With The Stains
The One Where Everyone Finds Out
The One Where Barlos Tells Her Everything
The One With All The Gifts
The One Where You Get Cheated
The One Where The Pets Get To Watch
The One Where You Forget To Clear Your Browser
(0:23) Circling back to being forced to throw away underwear.
(13:40) LISTENER QUESTION: My friends don't like my girlfriend. What should I do?
(23:20) LISTENER QUESTION: My girlfriend does not like my long time friend…cause we used to have sex.
(32:20) LISTENER QUESTION: What if my girlfriend's birthday lands on Valentine's Day?
(40:38) OSO QUESTION: Should you allow your pet watch you have sex?
(44:10) Assigning a guardian for your child.