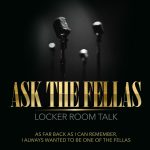 Episode 59
• (0:40) Black Mirror and the dystopian world.
• (8:08) Jerokee is traveling to Mexico.
• (16:24) The fellas "try" to give advice on how to get out of a funk .
• (20:20) Meeting the Chicano Shuffle crew at our Super Secret Location.
• (23:50) Getting back on topic: How to get out of a minor depression. TV show recommendations.
• (30:55) FLASHBACK: Chaos at the park (July 4, 1994).
• (42:01) Popeyes vs. Chick-Fil-A chicken sandwich.
• (50:21) Is masturbating to someone the ultimate compliment?
• (58:55) Frogs with chiseled abs.
Join Jerrokee, Sho'Mar, Micktorious, and Barlos discuss some of the most thought provoking and talked about topics known to man. We say what you aren't willing to admit in public.