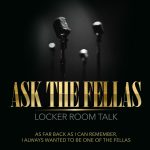 Episode 68
• (3:50) What if you can hook up with the person you wanted from the past that you didn't have a shot at because they were out of your league?
• (10:12) FRIEND PROTOCOL: If you friend gets kicked out of a club or concert, does the entire group go with him or should he go home alone?
• (23:00) Have you ever wondered if you have an addictive personality?
• (30:13) AA (alcoholics Anonymous) 20 questions: Am I an alcoholic – Self Assessment Test?
• (39:08) How do you know when you are old?
• (45:50) Do you ever pee on yourself?
• (49:10) Does your pee sometimes spray uncontrollably?
• (51:03) LISTENER QUESTION: The Fellas give tips on creating their own podcast.
Join Jerrokee, Sho'Mar, Micktorious, and Barlos discuss some of the most thought provoking and talked about topics known to man. We say what you aren't willing to admit in public.