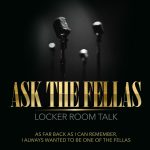 Episode 69
•  (9:20)  A Devil's Threesome:  What are the rules when you are in a devil's threesome.
•  (18:50)  Roommate Etiquette: What are the rules when you share rooms on vacation and someone brings a girl to the room.
•  (30:12)  69!  Sixty Nine!  Sesenta y Nueve!  Soixante Neuf!  Sessanta Nove!
•  (39:00)  We would like to thank our listeners!  With the help and suggestions of our listeners, we had an amazing time in Vegas.
•  (52:48)  The stories that should not come back from Las Vegas.
•  (53:54)  A little advice for The PEOPLE!!!!!
•  (57:03)  Things we learned about each other on this trip.  How do you wheel your luggage?  Do you 4-wheel or 2-wheel your luggage?
Join Jerrokee, Sho'Mar, Micktorious, and Barlos discuss some of the most thought provoking and talked about topics known to man.  We say what you aren't willing to admit in public.