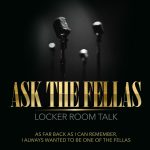 Episode 73
•  (2:53)  Sho'Mar goes to Mexico!  Before his trip, we cleaned half of his sneaker collection, which is about 15-25 pairs.
•  (11:00)  Barlos is wilding out!  We started drinking a Hazy IPA that got us all wild.  Also, The Juice died and we thought it was OJ Simpson.
•  (15:00)  Ramon, super special guest, joins the Fellas for the first time in history!  
•  (22:45)  Ramon talks a little about the history of his hair.
•  (27:42)  Jerokee runs to hide his little toes once Ramon gets in studio.
•  (29:30)   LISTENER QUESTION: A listener doesn't know how to order at Starbucks.  He wants advice on how to properly order at Starbucks.  We, as usual, were no help.  Sorry!
•  (41:14)   Micktorious, also, doesn't know how to order at Starbucks.
•  (44:35)  The Fellas discuss their experiences of college life. 
Join Jerrokee, Sho'Mar, Micktorious, and Barlos discuss some of the most thought provoking and talked about topics known to man.  We say what you aren't willing to admit in public.