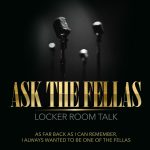 Episode 76
• (4:05) Sho'mar returns from a third world country. The Fellas discuss their experiences.
• (14:55) New laws taking effect in 2020.
• (32:55) Are grown men allowed to cry? During emotional sports moments, movies, etc.
• (49:00) Overuse of the word sorry.
Join Jerrokee, Sho'Mar, Micktorious, and Barlos discuss some of the most thought provoking and talked about topics known to man. We say what you aren't willing to admit in public.