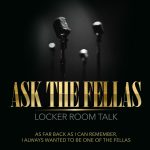 Episode 79
 •  (05:22)  FRIENDS ETIQUETTE: Should all of your friends share the cost of the birthday person's meal?  
•  (23:45)  LISTENER QUESTION: What is it about Latino men that women find attractive?
•  (36:30)  Why do we hate cheating so much?
•  (54:00)  The Fellas reflect on the moments they learned that their hero was killed in a helicopter crash.
Join Jerrokee, Sho'Mar, Micktorious, and Barlos discuss some of the most thought provoking and talked about topics known to man.  We say what you aren't willing to admit in public.