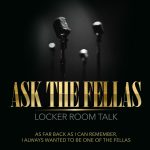 Episode 87
•  (05:22)  There's been a huge increase in domestic violence calls in Southern California.
•  (10:55)  Ask The Fellas Quarantine Update.  What have the fellas been up to?
•  (22:00)  Non-essential trips.  Will the police stop you if you are just loitering?
•  (32:44)  Pocket pussy.  That is all!
•  (34:00)  Is it normal if your Ex still wants to visit and sometimes says "I love you"?
•  (40:22)  How many kids are going to be named after the Coronavirus or COVID 19?
•  (46:30)  Jerokee packs heat.
•  (50:00)   Who (or what celebrity) would you like to be quarantined with?
Join Jerrokee, Sho'Mar, Micktorious, and Barlos discuss some of the most thought provoking and talked about topics known to man.  We say what you aren't willing to admit in public.
Special Thanks to the Chicano Shuffle for creating the Ask The Fellas Theme Song!