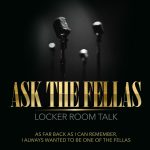 Episode 93
•  (5:00)  How Mexican Are You?  QUIZ for Barlos.  
•  (10:30)  The Fellas do "The Grito".
•  (14:45)  What is your favorite beer pairing? 
•  (23:10)  GREAT DEBATE:  Pozole or Menudo?
•  (27:10)  Jerokee esta salado.  Jerokee shakes salt straight in his mouth…weirdo!
•  (29:12)  LISTENER QUESTION:  What if your son choose the female character in a video game?  
•  (46:45)  Have you ever had a gay person hit on you?  Were you flattered?
•  (57:40) LISTENER QUESTION:  If you were married, and were randomly and mistakenly texted by a woman, would you have a sexual encounter with her if it were to be a casual and discrete?
Join Jerrokee, Sho'Mar, Micktorious, and Barlos discuss some of the most thought provoking and talked about topics known to man.  We say what you aren't willing to admit in public.
Special Thanks to Ramon and The Chicano Shuffle for creating the Ask The Fellas Theme Song!