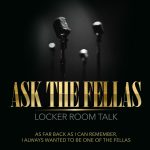 Episode 94
•  (0:20) Barlos Rant:  Jerokee 
•  (8:00) LISTENER QUESTION:  If you ever committed a crime and it was caught on video, would you brag about it to your friends?
•  (11:07)  LISTENER QUESTION: If you were a woman for a day….wait, wait…don't tell me.
•  (36:21)  Police Chases.
•  (49:19)  If you had a business, would you hook your friends up?
•  (1:01:25)  The Fellas sum up the show
Join Jerrokee, Sho'Mar, Micktorious, and Barlos discuss some of the most thought provoking and talked about topics known to man.  We say what you aren't willing to admit in public.
Special Thanks to Ramon and The Chicano Shuffle for creating the Ask The Fellas Theme Song!