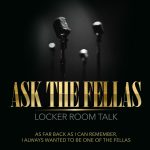 Episode 95
•  (0:20) Have you every peed the bed?
•  (6:35)  Sho'Mar has new criteria for the woman of his dreams.
•  (13:13)  Would you stay with a woman that doesn't want to work?
•  (19:15)  Would you ever get a beautiful/hot babysitter?
•  (25:40)  Sho'Mar doesn't keep his phone on silent.
•  (27:40)  Barlos hates iPhones.
•  (40:12)  Fart jokes. 
•  (41:00) LISTENER QUESTION:  Is it essential to live with a women/man before you marry that person?
•  (53:00)  If you are dating a girl, where do you draw the line if she isn't giving you sex, sending you nude pictures, or anything sexual?
•  (58:00)  Should you promote unhealthy body images?
•  (1:05:26)  If the Fellas were women, BUT we were unattractive…
•  (1:16:00)  RANT!  
Join Jerokee, Sho'Mar, Micktorious, and Barlos discuss some of the most thought provoking and talked about topics known to man.  We say what you aren't willing to admit in public.
Special Thanks to Ramon and The Chicano Shuffle for creating the Ask The Fellas Theme Song!