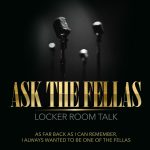 Episode 96
•  (0:20)  Jerokee's mom fights again!
•  (6:50)  What would your fight song/soundtrack?
•  (13:55)  LISTENER QUESTION: What does it mean when my man can't get a hard on for me?
•  (24:22)  LISTNER QUESTION:  Bad friends: I was fondled while I was drunk and asleep in my room and the only people in the house was a married couple.
•  (33:14)  WHAT WOULD YOU DO?:  I caught my neighbor with another woman at the beach.  Would you tell your good friend about his cheating wife/girlfriend or would you keep it a secret?
•  (46:20)  What if your best friend is the one cheating?  Would you tell his girlfriend/wife?
•  (51:30)  Dennis Rodman: Are you a product of your environment?  Jerokee & Barlos share their stories of growing up in the hood.
Join Jerokee, Sho'Mar, Micktorious, and Barlos discuss some of the most thought provoking and talked about topics known to man.  We say what you aren't willing to admit in public.
Special Thanks to Ramon and The Chicano Shuffle for creating the Ask The Fellas Theme Song!