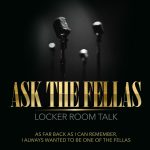 Episode 97
•  (0:20)  The 2020 demonstrations, protests, looting, and riots.
•  (6:20)  Remembering 1992
•  (26:42)  Final thoughts on our responsibility as human beings.
•  (32:50)  Micktorious and his Zoom habits.
•  (35:20)  LISTENER QUESTION: Do you believe there is a person that could that is amazing that will make you cheat on your significant other?
•  (41:11)  What is the best way to break up with someone?
•  (53:12)  Jerokee is COVID-19 Negative.
•  (55:18)  LISTENER QUESTION: When is sex over? 
•  (1:03:41)  Prostitutes…you down?
Join Jerokee, Sho'Mar, Micktorious, and Barlos discuss some of the most thought provoking and talked about topics known to man.  We say what you aren't willing to admit in public.
Special Thanks to Ramon and The Chicano Shuffle for creating the Ask The Fellas Theme Song!