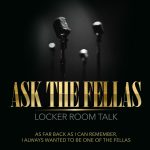 Episode 99
• (0:20) The Fellas venture out of the confines of their home. Did they go to the beach? A restaurant? A bar?
• (10:15) LISTENER QUESTION: Do you Fellas consider yourself the listening type when a woman is venting to you? Or do you try to create a solution for the situation?
• (20:20) RECAP: Are we simply just staring at lips and tits?
• (22:10) Have you ever met a woman that has facial features that are very sensual or sexual and you can't seem to see past the sexual looks?
• (36:20) Who keeps the friends in the divorce?
• (43:45) What if your good friend started dating your ex-wife?
• (49:22) What are the signs of an Attention Whore?
Join Jerokee, Sho'Mar, Micktorious, and Barlos discuss some of the most thought provoking and talked about topics known to man. We say what you aren't willing to admit in public.
Special Thanks to Ramon and The Chicano Shuffle for creating the Ask The Fellas Theme Song!